COVID-19, Wreckage & Rebellion
NLF Highlights for September
COVID-19, the global pandemic many had expected to have all but disappeared in the U.S. by now, continues to rage on. Over 6 million Americans
have to date been infected and nearly 200,000 have perished. And the toll has not been equally shared, with the age-adjusted death rate for Black people 3.6 times that of whites, and for Latinx people, 3.2 times that of whites. Wholly inadequate and scattershot efforts in the U.S. to contain the pandemic continue to preclude anything resembling life as we once knew it. And it is the cessation of normal life that brought about and sustains the COVID-19 economic freefall. With unemployment having risen higher in the U.S. in the first three months of pandemic than it did in two years of the Great Recession, the ongoing meltdown has exposed and exacerbated longstanding inequalities in wages and benefits, workplace health and safety protections, housing conditions, and quality of healthcare.
As frontline workers confronted the danger of insufficient workplace protections, worker organizing and job actions surged. A main site of this organizing was at Amazon warehouses. As Amazon.com raked in a record $75 billion in first quarter sales, the company's workers, particularly those involved in packaging and shipping goods, toiled with scant Personal Protective Equipment at breakneck speed. In the September 2020 issue of New Labor Forum, 
Kressent Pottenger 
interviews William Stolz, an Amazon warehouse worker and organizer, who details the crush and peril of this work as well as labor resistance to it.
While the pandemic has shone a bright light on the racial and class inequities of health care provision in the U.S., it has also underscored the dearth of hospital facilities in vast rural regions of the country. In his column, "Organized Money: What is Corporate America Thinking," 
Max Fraser
 describes the extent to which private equity speculation in healthcare networks has led to dozens of hospital closures across rural America. These closures have brought panic and tragedy to hundreds of patients and their families in the midst of the pandemic. And Fraser reports that, with the formation of the powerful Healthcare Private Equity Association, private equity investment appears bound to continue profiteering from the decline in healthcare access.
Table of Contents
Speed-ups, Write-ups, and Profits Up at Amazon / by Kressent Pottenger, New Labor Forum
Public Health, Private Equity, and the Pandemic / by Max Fraser, New Labor Forum
COVID Capitalism: Pandemic, Recovery & Rebellion / SLU Virtual Event Series
"Reinventing Solidarity" / Announcement of New Labor Forum's New Podcast!
---
Speed- ups, Write-ups, and Profits Up at Amazon
by Kressent Pottenger, New Labor Forum
When COVID-19 happened, the very first thing that they did at my warehouse was announce they were going to suspend the associate safety committee. That was before they canceled any of the other large gatherings that took place in the warehouse. In early or mid-March, they announced they would not be penalizing people for unpaid time: you could take as much unpaid time off as you wanted. They started staggering shifts and spreading tables out in the breakroom. When it got closer to April, we got temperature screenings, and then finally masks. They started enforcing social distancing, but also enforcing it as a pretext to target people who management didn't like.
Read the full article 
here
---
Public Health, Private Equity, and the Pandemic
by Max Fraser, New Labor Forum
Among the more troubling realities laid bare during the ongoing COVID-19 pandemic has been the glaring lack of access to acute medical care that plagues many rural communities. The federal government now designates nearly 80 percent of rural America as "medically under- served," a condition which seems likely to worsen in the face of the mutually compounding public health and economic crises unleashed by the novel coronavirus. Yet even before the pandemic began, an epidemic of hospital closures had turned whole swathes of the country into vast "health care deserts," where in some cases there is no doctor or hospital bed for a hundred miles in any direction.
Read the full article here
---
COVID Capitalism: Pandemic, Recovery & Rebellion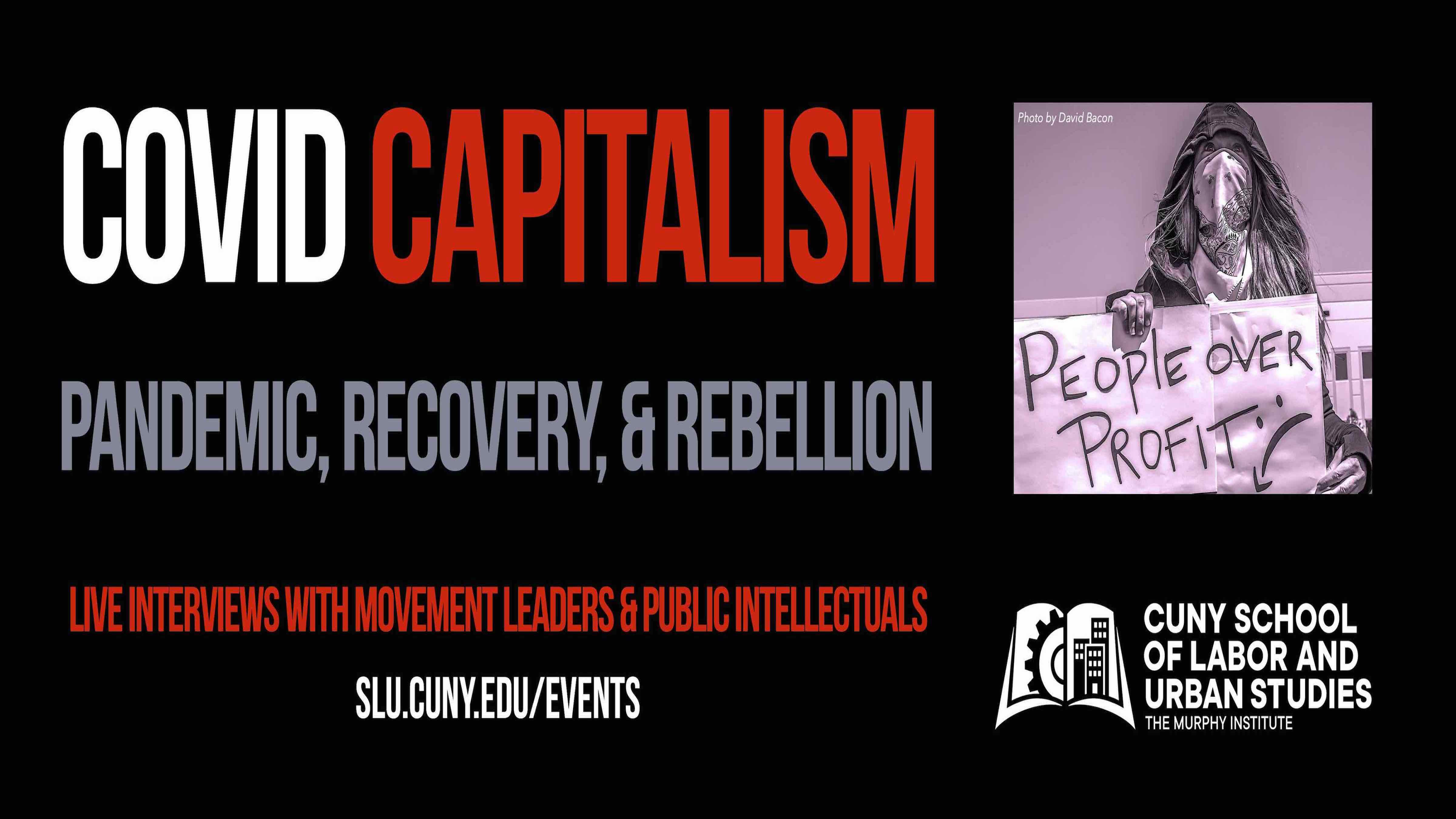 "The Political Economy of the COVID Pandemic"
Join us to examine the impact of the COVID pandemic on the U.S. and global economy. Leo Panitch (Canada Research Chair in Comparative Political Economy and Distinguished Research Professor of Political Science at York University) and Samir Sonti (Assistant Professor of Urban Studies at CUNY School of Labor & Urban Studies) will contrast the current crisis with previous periods of economic crisis, as well as discuss the possible consequences of this crisis for global capitalism.
Thursday, September 10th, 12pm – 1pm ET, via Zoom
---
Announcing New Labor Forum's new Podcast, Reinventing Solidarity!
In October New Labor Forum, will inaugurate a new podcast called Reinventing Solidarity. Episodes will appear twice a month featuring discussions with New Labor Forum authors, editors, and poets. We'll ask the essential and often provocative questions about race, class, gender, and the role of organized labor and social justice organizations in the work of creating a radically different world, a world with solidarity, equality, and sustainability at its heart. Look out for a link to the podcast in our next newsletter. We hope you'll subscribe!